Boro Star Drop In To Macks Solicitors In Darlington
February 6, 2015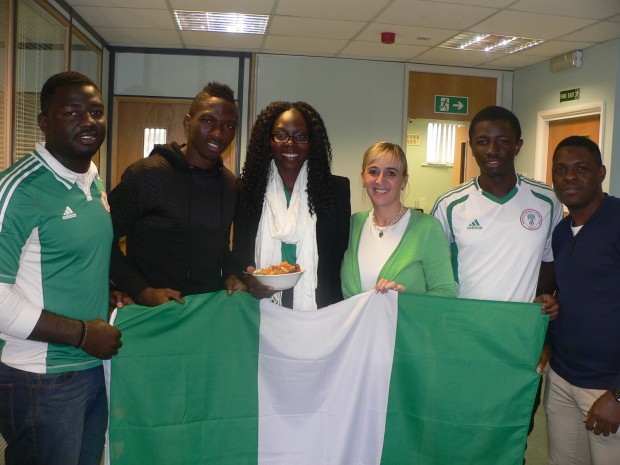 Nigeria's World Cup star Kenneth Omeruo called in to Macks Solicitors in Darlington to celebrate his country's national Independence Day.
Centre-back Kenneth, who is currently on loan with Middlesbrough from Chelsea, arrived with friends to enjoy some of Macks Family Law solicitor Amanda Adeola's traditional home cooking, which she began preparing at 5.30 am.
Amanda cooked enough for all 60 of Macks' employees, with food delivered and enjoyed across the firms' three offices in Darlington, Middlesbrough and Redcar. Her traditional Nigerian dishes included jollof rice, fried rice, peppered beef and spicy chicken. Staff in all three of the offices wore white and shades of bright green for the occasion, the colours of the Nigerian flag.
"I brought in the food to show the solidarity and diversity within Macks Solicitors in Darlington and among our solicitors in Middlesbrough and Redcar and I was thrilled that everyone really entered into the spirit," said Amanda.
"There is a family atmosphere in this office, so even though you're at work, it feels like you're at home. Everyone genuinely cares about each other.
"Happiness is very important to Nigerians. No matter how hard things get for you, even if you have no food or water and are experiencing other hardships, everyone keeps a smile on their face.
"There's a Nigerian saying that no matter where you are or what you become in life, you must never forget home. We had to celebrate today, and I am honoured that Kenneth came along and that the entire firm have joined in with the celebrations."
Family Law solicitor Amanda moved to England when he was 14 and has dual Nigerian and British citizenship. She is now based in Darlington and specialises in children matters. She invited Kenneth to come and celebrate after his match training at nearby Rockliffe Park, Middlesbrough Football Club's training ground.
"It's a really nice thing to do," said 22-year-old Kenneth. "I didn't expect anything like this to be going on, I was even asking the club if there were any Nigerians here in Darlington.
"It's really good to celebrate Independence Day because it is very important to our history. In Nigeria it is a national holiday and there are lots of parades, it's a time when everyone is with their family – it's a big event."
Nigerian Independence day is celebrated each year on October 1.
---