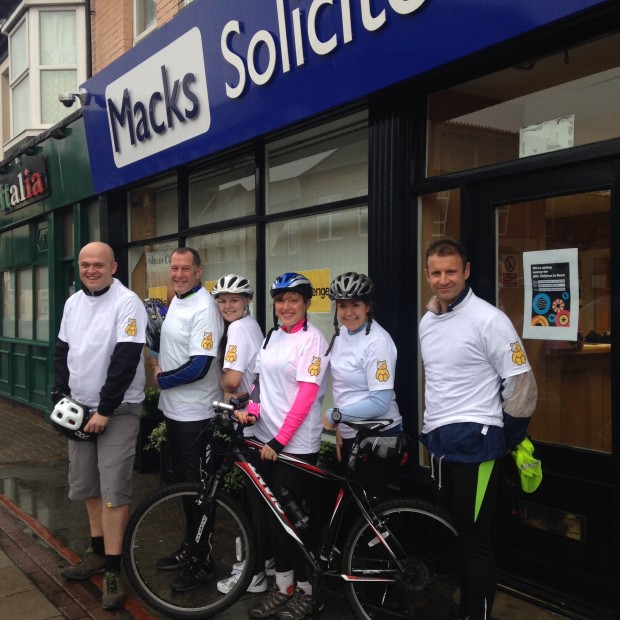 Cyclists from Macks' Solicitors in Middlesbrough have completed a 40-mile charity bike ride, despite being faced with challenging weather conditions throughout. They successfully cycled the distance between the firm's three offices in Redcar, Middlesbrough and Darlington.
The group were heavily rained on throughout their gruelling journey. Macks Solicitors' personal injury specialist Paul Henderson said: "The difficult conditions made it hard work, but once we'd got wet through there was no point worrying about it and we all kept each other going."
Paul organised the ride and was joined by fellow personal injury lawyers Frank O'Connor, Rebecca Montague and James Pritchard, along with Macks' receptionist Melanie Wood and Rebecca's friend, Fiona Bergerud.
The team set off from the Macks' Redcar office at 9.30am, first travelling along Kirkleatham Lane and then through Eston, Normanby, Berwick Hills and North Ormesby.
They called in at the office in Middlesbrough for a short break and were greeted by their colleagues with tea and cakes. The group then continued through Acklam and the villages of Stainton, Thornton and Maltby, eventually stopping for refreshments at Hilton.
The solicitors persevered with the difficult ride, reaching Ingleby Barwick and Eaglescliffe, then passing Teesside Airport and Middleton St George. After a final stint on the A66 the group finally reached Mack's Darlington office, where they were greeted by colleagues and family.
The group collected money from their colleagues throughout the day, ultimately exceeding their target amount for Children in Need.
Paul said: "We've been amazed at everyone's generosity. Our target was £250 but by the time we'd arrived at our Darlington office we had raised almost £800."
As personal injury lawyers in Middlesbrough, the group are well aware of the consequences of cycling incidents on the region's roads and made sure to wear well-fitted helmets and high visibility clothing.
Paul added: "You can end up being injured through no fault of your own, so it's really important that you take some sensible precautions to keep as safe as you can, such as wearing the correct safety equipment and getting your bike properly serviced."
The Middlesbrough solicitors' charity ride coincided with national Road Safety Week, the UK's largest road safety campaign. The week-long campaign is organised each year by road safety charity Brake, and highlights the danger of irresponsible driving. Their six-point safety pledge encourages road users to pay attention to road safety, with the aim of reducing road deaths and injuries in the UK.