'Overdue' Compensation Reforms Welcomed
March 3, 2017
Personal injury lawyers have welcomed news that accident victims who suffer life-changing injuries are to be awarded bigger lump sum compensation payments.
Lord Chancellor Liz Truss announced that the so-called "discount rate" will be slashed from 2.5% to minus .75% in a move designed to reflect falling rates of investment returns.
The figure, which had not changed for 16 years, is used in calculating how much money a claimant should be paid for future losses.
Shares in a number of major insurance companies dropped sharply in the wake of the announcement and the body representing the industry described the move as "crazy" and "reckless in the extreme".
However, Anthony McCarthy, a director at Macks Solicitors who specialises in personal injury work, said the rate should have been increased a long time ago.
"No amount of money can ever truly compensate for the kind of catastrophic injuries we are talking about in many of these cases," he said.
"But it's a matter of natural justice that where someone accidentally causes an injury to another person, the law should require them to pay a sum that at least prevents them having to endure further unnecessary suffering in the future.
"For a long time the figures being awarded were falling well short of that level and the system was in urgent need of reform."
The changes have come about after pressure from the Association of Personal Injury Lawyers, which had launched a judicial review to force the government to bring the system up to date.
Huw Evans, director general of the Association of British Insurers (ABI), said: "Claims costs will soar, making it inevitable that there will be an increase in motor and liability premiums for millions of drivers and businesses across the UK.
"We estimate that up to 36m individual and business motor insurance policies could be affected in order to over-compensate a few thousand claimants a year.
"To make such a significant change to the rate using a broken formula is reckless in the extreme, and shows an utter disregard for the impact this will have on consumers, businesses and the wider operation of the insurance market."
But Mr McCarthy cast doubt on the ABI's claim to be acting in the interests of the general public.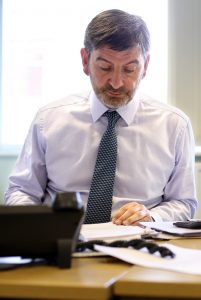 "Once again the insurance industry is complaining that premiums will increase because of bigger payouts, even though I've seen little evidence of premiums falling when the law changes to their benefit," he said.
"Moreover, the reduction in the discount rate has been on the cards for years and should have come as no surprise to insurers. They should have been planning for this.
"There has been too much unfair demonising of accident victims in recent years, such as in the run-up to the changes to soft-tissue injury compensation that were announced last week.
"All personal injury lawyers have been asking is that the law should treat victims in the way we would all expect to be treated if something like this happened to ourselves or somebody close to us."
The new rate will be applied to cases coming to trial from Monday March 20 onwards. Solicitors are being advised to review the valuations of claims that will be settled after that date.
---